The State Hermitage is one of the largest and oldest art museums in the world. It was founded in 1764 by Catherine the Great and has been opened to the public since 1852. Its collections comprise over three million items, including the vast collection of paintings of the most prominent artists including Da Vinci, Rafael, Rembrandt, Rubens etc.
The Winter Palace is the most famous part of the Hermitage public museums. It was, from 1732 to 1917, the official residence of the Russian monarchs. Situated between the Palace Embankment and the Palace Square, adjacent to the site of Peter the Great's original Winter Palace, the present and fourth Winter Palace was built and altered almost continuously between the late 1730s and 1837, when it was severely damaged by fire and immediately rebuilt. The original project was in 1732 created by architect Francesco Bartolomeo Rastrelli.

The collection occupies a large complex of six historic buildings along Palace Embankment, including the Winter Palace, a former residence of Russian emperors.
Hermitage Statues at the LHCP-2015 web-site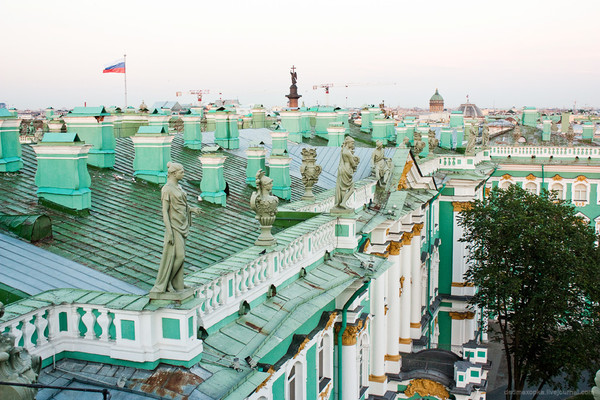 176 statues and vases created by the sculptor I. Boumhen are situated on the balustradeof Hermitage museum. Boumhen created 27 drawings, which were used as models for 102 statues and 74 vases. The height of detached statues is 3,4 – 3,6 m , vase's height is approximately 2,3 – 2,7 m .
The statues present male and female allegorical figures of ancient gods and heroes.