STRUCTURE
ACTIVITIES
ACHIEVEMENTS
PUBLICATIONS
EVENTS
HISTORY
USEFUL INFORMATION
SOCIAL LIFE
I n t e r m e d i a t e E n e r g y P h y s i c s
Experiment "Proton". Measurement of the proton charge radius.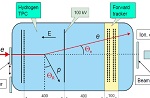 PNPI Group Leader: A.A. Vorobyov, A.A. Vasiliev

В настоящее время одной из острых проблем физики элементарных частиц является проблема зарядового радиуса протона. Проблема заключается в существенном расхождении значений величины, определенной путем измерений лэмбовского сдвига в атомах мюонного водорода, от принятого прежде значения радиуса, полученного на основании согласующихся между собой результатов целого ряда экспериментов по упругому электрон-протонному рассеянию и спектроскопии атомов водорода.
Для разрешения данной проблемы планируется провести высокоточное измерение дифференциального сечения упругого электрон-протонного рассеяния в области малых переданных импульсов с использованием электронного пучка ускорителя MAMI (Mainz Microtron, Майнц, Германия). Измерения будут проводиться при помощи разработанного и произведенного в ПИЯФ детектора нового поколения, состоящего из водородной время-проекционной камерывысокого давленияи системы регистрации треков частиц, вылетающих вперед. Это принципиально новый подход к измерению процессов рассеяния с малыми переданными импульсами по сравнению с предыдущими исследованиями, в которых измерялись только параметры электрона рассеяния.
Преимуществами метода является: более точное измерение величины переданного импульса, возможность измерения абсолютной величины дифференциального сечения упругого электрон-протонного рассеяния, малая величина радиационных поправок. Также в настоящее время в сотрудничестве с физиками Европейского центра ядерных исследований проводятся пилотные исследования, в которых изучается принципиальная возможность измерения зарядового радиуса протона при помощи мюонного пучка ускорителя SPS и экспериментальной установки COMPASS.
(Более подробно смотрите в презентации Проект «ПРОТОН» и статье "PROJECT FOR PRECISION MEASUREMENT OF THE PROTON CHARGE RADIUS IN AN ELECTRON–PROTON SCATTERING EXPERIMENT" в сборнике "ОФВЭ ПИЯФ 2013-2018" - страницы 316-325).
"Новый эксперимент в ЦЕРН !!! " - Научный комитет Европейского центра по ядерным исследованиям (ЦЕРН) рассмотрел и принял научную программу нового эксперимента AMBER. Коллаборация, которая вскоре будет создана, займется фундаментальными исследованиями свойств протона.

Experiment SPASCHARM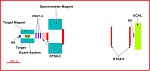 PNPI Group Leader: D.V. Novinsky

The project is aimed at the SPASCHARM setup creation at IHEP for studying the strong interaction spin dependence and the proton spin structure, as well as for determining the mechanisms of the spin asymmetries formation in the particles production.
As the promising project from 2025, it is planned to form the new channel of polarized protons and antiprotons beams, as well as pions, kaons and some nuclei ones interacting with polarized and unpolarized targets. A technical project for the creation of a magneto-optical channel has been drawn up, indicating all dimensions and the layout of the equipment. The goal of the final project is to study hidden charm states, one- and two-pin asymmetries, spin density matrix, etc.
The existing project was created on the basis of the equipment of the "PROZA" experiment. The experiment motivation is to obtain data on the single-spin asymmetry of inclusive and exclusive final states in a wide range of kinematic variables. In particular, based on inclusive measurements, most models (for example, Collins, Sievers, "higher twists" models) cannot predict nonzero asymmetry in the central region and describe the dependence on the transverse momentum p_T.
The first measurements in the year 2018 spring (so far the only set of physical data) were performed on a beam of negative pions with an energy of 28 GeV, interacting with a polarized target (the substance is pentanol).
The diagram of the setup is presented, which includes three proportional chambers (PC) manufactured in the track detectors department. PC's (a total of 1200 channels of electronics) were installed at the same time at the facility, and their software was integrated into the data acquisition system.
A data taking with statistics 5-10 times higher than the existing one is planned for the existing setup within ~ 5 years. It is also planned to modernize the existing installation (Cherenkov counter - ready, hadron calorimeter, muon system).
(For more details, see the Experiment SPASCHARM.pdf file, as well as the Presentation at the seminar from 2020).